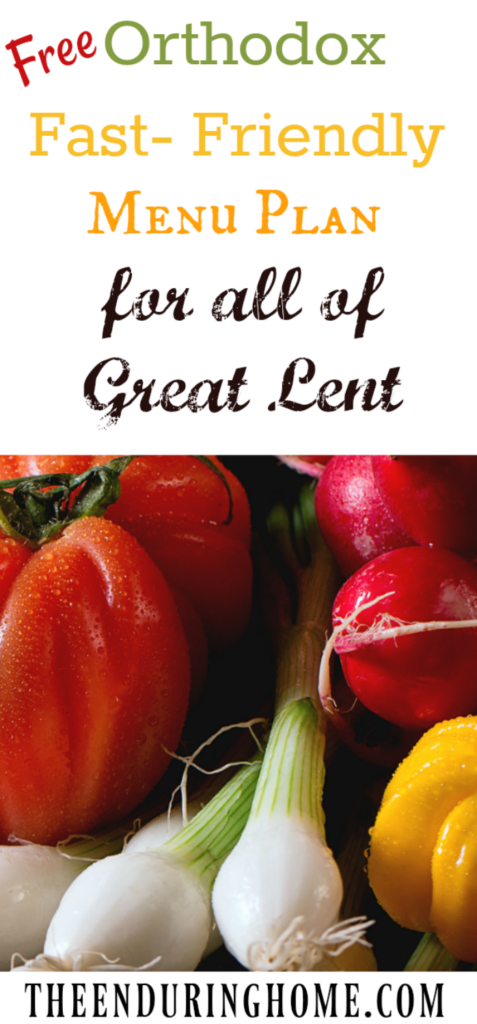 Desperate for Fast-Friendly Meal ideas? Here's menu planning help! Check out this free Eastern Orthodox Lenten meal plan. Just in time for Great Lent!
March is quickly approaching, but something else is coming too…Great Lent.  This season of the church will test our endurance and our faithfulness.  Fasting comes at us full force  – are you ready?!  This year I did something I've never done; I made a Lenten meal plan for all of Great Lent. Yep, 48 days worth of Eastern Orthodox Fast-Friendly dinners.  I am super excited to have this done for the whole season and even more excited to share this awesome resource with you!
A full season of fasting…healthy supper on the table.
Usually I plan menus on a monthly basis, but this year I really wanted to have a simpler Lent.  I want everything to be planned out and ready to go.  I need to plan ahead to free up time for what is really important…  So instead of just making a menu plan for March, I've made it to go all the way through this fasting season and end on Pascha (or Easter).
Besides seeking simplicity, I also really want to focus on balanced healthy meals this Lent.  It is so easy to fall into the "chips and salsa" or carbohydrate rut.  I want to make sure my family is still getting nutrition (especially fruits and veggies, as well as protein.  So, my meals are planned very intentionally.  If there is a meal that lacks protein one day, then I make sure to have a heavier protein meal the next day. I am NOT a nutritionist, I'm just a mom trying my best to make healthy meals.
A Blessed Lent to you!
~Karina
**This post may contain affiliate links. If you click on those links, I may earn a commission (at no extra cost to you).  For more info on our policies, click here.  Thank you for being a part of this community and supporting this blog!
Here's my disclaimer:   I am not a medical expert by any means!  I do not add up calories, fat, or nutritional content.  You should consult with your health care provider for any and all health, nutrition, and food advice.  My menu plans are just that: a meal plan I make for my family. Here, I get to share it with you in hopes it can help ease your burdens and save you some time!

If you would like to read about why we share our menu plans (and why they are "Orthodox") then check out the beginning of this post.
A few things worth noting:
First, this menu contains only dinners.  If you are looking for breakfast and lunch help, check out A Menu Method for Families on a Tight Budget.  This is the system we use to save us time and money – this will be changing soon!  Breakfast and lunch ideas can be found there.  
Second, Sundays for us are very full, so I never plan a meal for Sunday evening.  It is my day off from cooking, so we scavenge for food: leftovers, popcorn, snacks – anything we can find!  
And finally, some of the members of our family have very specific diet restriction (including low carb, low dairy, low/no sugar).  Hence, our menu selections tend to be homemade, from scratch, and generally healthy meals.  Most can easily be made gluten free as well by substituting out the bread/pasta selections (that's what we do!). 
Oh, many fasting recipe's I include will contain olive oil.  We just substitute an oil like canola etc. in its place if it is a fast day.
Great Lent Fasting Menu
Clean Week –
Note: Since we have church every night this week, these first recipes are super simple or utilize slow cookers (and you'll see some of the same recipes repeated Holy Week for the same reason). And yes, some people follow a strict fast for the first few days of Lent, but with young children in the house, I still need to cook meals…
February
27 – fast – Black Beans and Rice w/Fresh Lime and Onions on the side (we cook brown rice, top with black beans and squeeze fresh lime on top…add onions if you want more pizzazz).
28 – fast – Potato Water Soup – (simmer potatoes, celery, onions, parsley and lot of salt in a pot of water until desire consistency…I know, it sounds really plain, but our family really enjoys it…plus it's a great budget meal!
 March
1 – fast –  Tortilla Chips, Salsa, and Refried Beans (canned/warmed) (You'll see this on the menu twice…the first and last week of Lent.  when there just isn't any time to prep food and you want to make it to church on time, it's tortilla chips to the rescue!)
2 – fast –   Vegan Crockpot Quinoa Black Bean Chili*
3 – fast – Spaghetti with Marinara Sauce (I add some cooked lentils to the sauce for protein) and a salad
4 – w&o –  Cilantro Black Bean Quinoa Salad (Sarah from Orthodox Motherhood shares some  yummy vegan recipes – check out her potato tacos and Split Pea Soup too (see below)!  BTW, if you are looking for resources on how to go through Lent with children, check out her site: www.orthodoxmotherhood.com )
5 – w&o  – Creamy Gingered Sweet Potato Soup Slow Cooker with rice crackers (Honestly, I love the recipe (that is really similar) in last fall's issue of Magnolia Journal, but since I cant post that one, I found a substitute!)
6 – fast –  Falafels (from a box mix) with Lettuce, Tomatoes and Tahini Sauce
7 – fast – Quick One Pot Veggie Wild Rice Soup* and vegan bread
8 – fast – Veggie Sandwiches with fresh berries I mash avocado and spread on bread then top with our favorite veggies and sprinkle with salt.
9 – fast – Raw Vegan Spring Roll Bowls* If I'm short on time, I'll just buy a sauce/dressing for this one instead of making it from scratch.
10 – fast – Vegan Split Pea Soup with 7 grain crackers
11 – w&o –  Gimme Chimmis with lime wedges and guacamole (this comes from my favorite vegan cookbook,  Eat, Drink & Be Vegan: Everyday Vegan Recipes Worth Celebrating
I'm so excited that Dreena shared this recipe online so I can share it with you.  It's been a long time since I've made these, but I can't wait to have them again – they had really good flavor…yum!)
12 – w&o – Vegan Avocado Caprese Pasta Salad*
13 – fast – Bean Burgers (frozen Costco) and Lemony Chickpea Salad
14 – fast – Mediterranean Baked Sweet Potatoes I know, this recipe sounds really strange, but we (including the kids!) really like it!
15 – fast – Vegan Pancakes with Fresh Strawberries and Syrup (Breakfast for supper!)
16 – fast – Lemon Chickpea Lentil Soup and french bread
17 – fast – Taco Salad w/lettuce, lentil "taco" meat, tomato, black olives, salsa, & guacamole (prep lentils as normal, add taco seasoning just like you would to cooked ground beef and then simmer until desire consistency)
18 – w&o – Irish Soup* with crusty bread
19 – w&o – Roasted Garlic and Tomato Lentil Salad (the garlic in this recipe makes for amazing flavors)
20 – fast – Simple Sesame Noodles* w/steamed veggies
21 – fast –Apple Walnut Chickpea Salad Sandwich*
22 – fast – Koreean Chickpeas Carrots Potatoes over Quinoa* I'm thinking that I'll serve it over brown rice just because we like rice a lot!
23 – fast – BBQ Bean Sandwiches with Coleslaw*
24 – w&o – Vegan Stuffed Cabbage*
25 – fw&o – Grilled Salmon, Roasted Asparagus, Mashed Potatoes and Fruit Salad
26 – w&o – One Pot Creamy Hummus Pasta*
27 – fast – Tacos with Lentil Walnut Meat
28 – fast – Portobello Fajitas*
29 – fast – Vegan Sloppy Joes with Cooked Green Beans I just use lentils  in place of ground beef.
30 – w&o – Vegan Mongolian Noodles and Veggies Stir Fry
31 – w&o – Copy-Cat In and Out Vegan Burger with Spread*, Sweet Potato Fries, and raw cucumber sticks


1 – w&o – Roasted Cauliflower and Potato Soup and rice crackers
2 – w&o – Potato Tacos
3 – fast – Harvest Quinoa Salad*
4 – fast – Kale and White Bean Soup and homemade bread
5 – w&o – Roasted Veggie Quinoa Salad* I'm planning to replace the chicken broth with veggie broth.
6 – w&o – Copycat Panera Butternut Apple Soup (Super easy and so yummy!) with seed crackers
7 – w&o – Broccli Cashew Stir Fry with wild rice mix
8 – wo&caviar – Shrimp Chickpea Curry over Rice w/steamed California Veggies (another no recipe, quick meal…) Warm store-bought curry sauce (I buy it at Costco, but most stores sell it) and a can of coconut milk.  Add in a can of chickpeas, and a few handfuls of shrimp (fully cooked, frozen, devained, no tail) and cook until warm.  You can omit the shrimp if you want a budget meal or omit the beans if you want to use lots of shrimp.  My friend makes a rendition of this and I love how simple it is…and the kids like it too!
9 – fw&o – Baked Haddock, Hash-brown Potatoes, Vegan Coleslaw and vegan cookies (kids choice!) We almost never make dessert, but I want to make Palm Sunday special for the kids so we'll bake some yummy cookies to add to the festive spirit.
10 – fast – General Ttsos Chickpeas* with carrot slices
11 – fast – Quick Curried Veggie Brown Rice Bowls*
12 – fast – Spaghetti with Marinara Sauce and Peas
13 – w&o – Tortilla Chips, Salsa, and Refried Beans (canned/warmed)
14 – strict fast – Leftovers (for the kids)
15 – w – Leftovers (for the kids) 
16 – Pascha 
Key:
fast – regular fasting guidelines apply (no meat or dairy)
fw&o – fish, wine, and oil
w&o – wine and oil
w – wine
meat fast – no meat
*  New recipes – can't wait to try!  Let me know what you think if you try it!

***This post may contain affiliate links.  If you click on those links, I may earn a commission (at no extra cost to you).  Thank you for being a part of this community and supporting this blog!