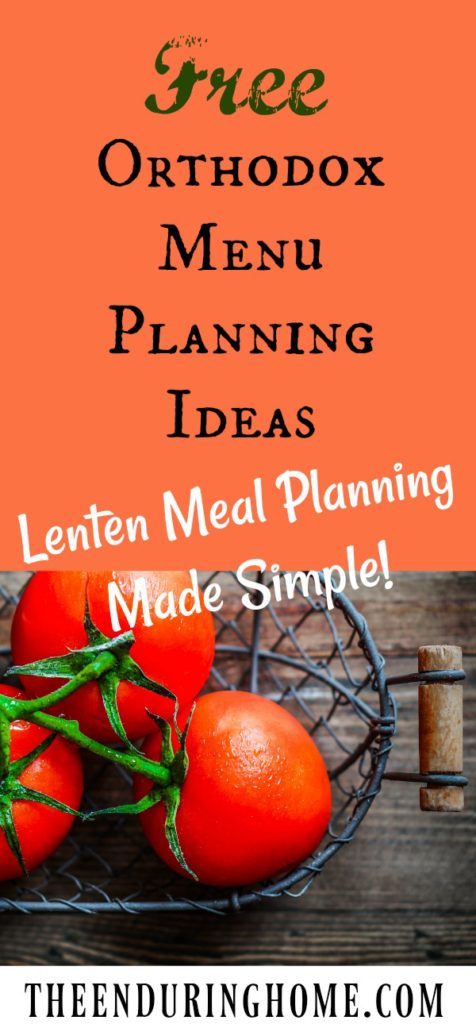 It is that time of year.  Even if you are good at menu planning, if you are an Orthodox Christian, this time of year can get very challenging…
**This post may contain affiliate links. If you click on those links, I may earn a commission (at no extra cost to you).  For more info on our policies, click here.  Thank you for being a part of this community and supporting this blog!
 Lent is Coming
The church offers us this amazing time to refine our lives.  There are so many reasons that the Church prescribes fasting during Lent.  One small part is that food should be simple and take very little time to prepare.  I fear in modern times, with the advent of vegan food as a niche for foodies, it is difficult to keep things simple and basic.
This Lent, my focus for menu planning is on keeping things as simple as possible.  Hence, as the calendar progresses into Lent, the meals are pretty basic, but still nourishing.  Generally they are just one dish; a pot of soup, a salad, a sandwich, etc.  You'll find one or two "special" meals for occasions (like birthdays) that fall during Lent.  But otherwise, the meals are meant to minimize time spent in the kitchen…
If you would like to read about why we share our menu plans (and why they are "Orthodox") then check out the beginning of this post.
A few things worth noting:
First, this menu contains only dinners.  If you are looking for breakfast and lunch help, check out A Menu Method for Families on a Tight Budget.  This is the system we use to save us time and money.  Breakfast and lunch ideas can be found there.  
Second, Sundays for us are very full, so I never plan a meal for Sunday evening.  It is my day off from cooking, so we scavenge for food: leftovers, popcorn, snacks – anything we can find!  
And finally, some of the members of our family have very specific diet restriction (including low carb, low dairy, low/no sugar).  Hence, our menu selections tend to be homemade, from scratch, and generally healthy meals.  Most can easily be made gluten free as well by substituting out the bread/pasta selections (that's what we do!). 
Oh, many recipe's I include will contain olive oil.  We just substitute an oil like canola etc. in its place.
March 2016 Orthodox Menu Plan
Update September 2017 – even though this is based on the 2016 calendar, I've decide to leave it up and available to you all…I think it's still super useful to inspire ideas for making your own menu plan…enjoy!
(new calendar)
1  Pulled Pork Sandwiches, Roasted Brussel Sprouts, and Fresh Fruit
2  fast – Curry California Vegetables & Chickpeas on Rice (I steam the veggies, add a can of chickpeas and a jar of curry sauce and serve over rice – so easy and our kids like it too!)
3 BLT Sandwiches with extra bacon 🙂
4  fast – Gypsy Vegetable Soup w/crackers
5  wo – Refried Bean Tacos (These are made just like beef tacos, but I substitute re-fried beans for beef.  I still used the taco seasoning because it adds so much flavor.)
6  Meatfare Sunday: Leftovers (eat up all the meat!)
7  Meat Fast – Fetticcini Alfredo w/Steamed Broccoli
8  Meat Fast – Breakfast Casserole w/ fresh fruit (I'm going to substitute extra veggies for the meat and add some feta cheese for extra flavor)  By the way, this is a great recipe!
9  Meat Fast – Caesar Salad w/Fresh Parmesan (such an easy meal; chop up Romaine lettuce, add some freshly grated Parmesan cheese and toss w/some store-bought Caesar Dressing)
10  Meat Fast – Super Easy Crockpot Broccoli Cheese Soup*
11  Meat Fast – Pesto Pizza (spread store-bought pesto on a pre-made pizza crust or flour tortillas, top with goat cheese and fresh tomoato slices and bake at 425 until golden – one of our family favorites…yum!)
12  Meat Fast – Mac and Cheese!
13 – Cheesefare Sunday: Leftovers (eat up all the dairy!)
14  fast – Roasted Cauliflower Soup* w/crackers
15  fast – Mejadra – (cook time is a bit long, but so much flavor in such a simple dish!) w/Raw Carrots and Cucumbers
16  wo – Spaghetti w/Marinara and a Fresh Salad
17  fast –  Cilantro Black Bean Quinoa Salad
18  fast –   Veggie and Marinated Tempeh Kabobs
19  wo – Sweet Potato Chili
20 wo – Sunday: Leftovers
21  fast– Black Beans and Rice w/Fresh Lime and Onions on the side (we just cook rice, top with black beans and squeeze fresh lime on top…add onions if you want more pizzazz).
22  fast – Hummus and Fresh Veggies
23  fast – BBQ Cauliflower chickpea Tacos with Creamy Lime Slaw (this one isn't quite as simple, but the flavors are really unique and good together)
24  wo – Avocado, Sprout, and Cucumber Sandwiches (One of our favorites!  Just mash up ripe avocado, spread on bread, top with sprouts, cucumber slices and sprinkle with salt.)
25  fwo – Grilled Salmon, Roasted Sweet Potatoes, Steamed Broccoli
26  wo – Chickpea Artichoke Bliss in a Dish*
27  wo – Sunday: Leftovers
28  fast – Vegan, Gluten Free Lasagne w/Fresh Fruit (this is probably the most time consuming of any recipe this month…but good if you need a special meal…)
29  fast – Ultimate Greek Chopped Salad* (back to our simple theme…keeping it easy and nutritious too!)
30  wo – General Tsos Chickpea Dish* w/ Fresh Veggies
31  wo – Lemony Kale White Bean Soup* w/ fresh fruit
Key:
fast – regular fasting guidelines apply (no meat or dairy)
fwo – fish, wine, and oil
wo – wine and oil
*  New recipes – can't wait to try!  Let me know what you think if you try it!
Hope this helps you simplify your Lenten cooking and focus on what really matters.  Blessed Lent!
~Karina