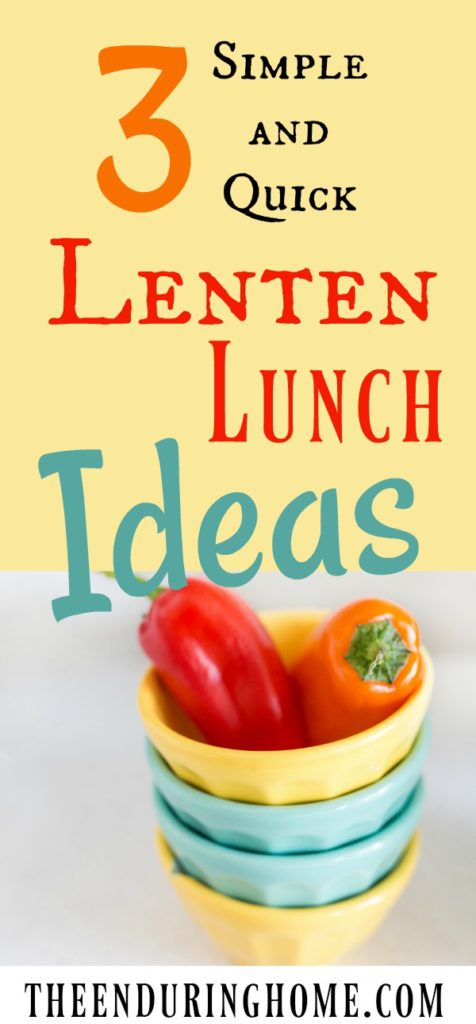 Ever struggle to have fast, healthy, Lenten lunches on the go?  This has been a challenge for us!  Though we usually try to eat leftovers for lunch, during Lent there tends to be fewer leftovers or we are much less content with the leftovers ;).
Also, I've been trying to cut down on time spent in the kitchen, so I am using recipes that are either make-ahead or super simple. Today, I'm rounding up some of my favorite lunches and sharing them with you all.
**This post may contain affiliate links. If you click on those links, I may earn a commission (at no extra cost to you).  For more info on our policies, click here.  Thank you for being a part of this community and supporting this blog!
I hope this makes things easier for you and allows you to spend more time on what really matters this Lenten season…
Mason Jar salads
If you are trying to eat healthy, then salads are an obvious choice.  But most restaurant salads aren't very fast-friendly and finding the time to cut up a fresh salad every day before work just isn't practical.  That's why I love this idea!  Mason Jar salads can be made ahead and they can be customized to fit your dietary needs.  I am really excited to start using these in our home this Lent.  The options are limitless – beans, nuts, quinoa, for protein, savory or sweet to satisfy different cravings, dried fruit, fresh veggies…  I think it will help us cut down on carb overload and save cooking time besides.  Need some direction on how to make a good Mason Jar Salad?  Cassie over at www.backtoherroots.com  offers great tips on how to make Mason Jar salads (so they won't get soggy).  She even has an awesome video tutorial.  I especially lover her idea for family size salads – check it out!
Sandwiches/Wraps
Typically, Lent is not a season for making sandwiches – at least, not in our house!  But there are a few great and simple sandwich combos that have won a place in our lunch bags.
Avocado Veggie Sandwich – This is my favorite fast-friendly sandwich and one of the easiest!  To make: mash up an avocado and spread on bread (if you use a vegan mayo, spread it on the bread first), sprinkle with salt (don't forget the salt or it won't taste good!),  add sliced cucumbers, sprouts (I like alfalfa) and you're done!  Super simple, incredibly nutritious and so yummy!
Hummus Sandwich – This is probably the most common vegan sandwich.  Simply spread your favorite hummus on bread or a wrap, and top with any veggie you have on hand.  Easy, healthy sandwich.
Sandwich spreads – I love how Julie over at the Simple Veganista uses chickpeas as the base for different sandwich spreads (use in wraps, bread or plain!).  Isn't that a great idea?!  Check out these two: Chickpea-of-the-Sea Salad and Cranberry, Walnut, Chickpea Salad.
    Pasta/Quinoa Dishes
This option is so great because pasta and quinoa can be served cold or warm and can be made ahead!  I've found that most pasta salad recipes can substitute quinoa for pasta if you have a dietary concern.  It is a very easy and healthy switch to make that doesn't take any extra time.
I don't have any specific recipes for this one.  We typically throw fresh veggies (like cucumbers, tomatoes,  and olives) or roasted veggies (like zucchini, sweet potato, cauliflower – can be made ahead!) in with quinoa and add a vinaigrette dressing.  Super simple and travels well.
Ok, one more little bonus idea…
I've personally never tried this one, but bento boxes always look so fresh and good, I couldn't help adding a link for these Vegan Bento Lunch Boxes.  If you are out of ideas and want something fresh and good (even for kids!) then check these out!
Happy Lunchtime!
Sometimes, in the midst of a fasting season, creativity vanishes.  It is easy to make the same food over and over because you are out of ideas.  Has that ever happened to you?  Hope this helps keep the creativity flowing and keeps you eating healthy, balanced meals…
Thanks for stopping by!  Blessed Lent!
~Karina