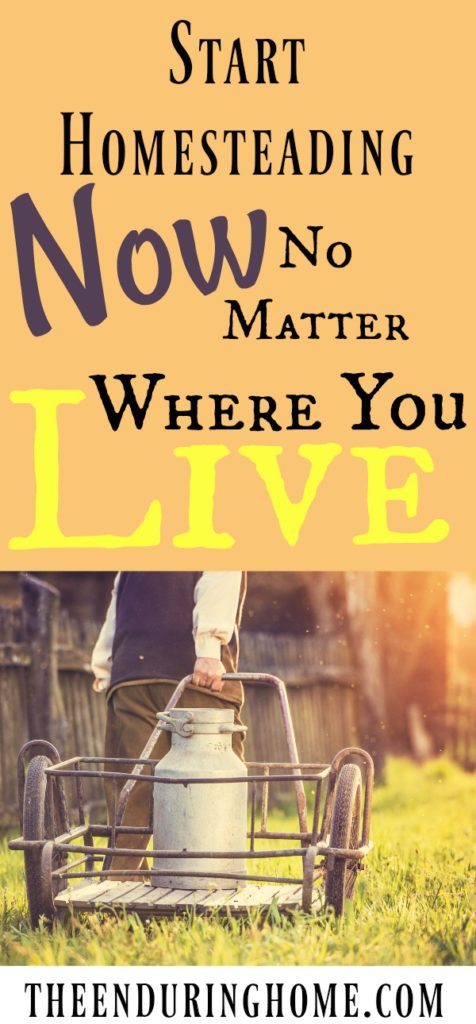 Do you have dreams of living in the country?  Of gardening and raising your own food and maybe even a couple animals?  But the reality is you don't actually live in the country?  Did you know you don't have to wait to start homesteading?  You really can start homestead no matter where you live.  Really.
I'll prove it to you.  My family and I live in town.  We recently moved and now live in an apartment with no yard.  Zero.  But there are still things we do to homestead and work toward that dream.
If you've faced this kind of dilemma, then find comfort that you are not alone.  And there are things you can do, you just need to get creative!
**This post may contain affiliate links. If you click on those links, I may earn a commission (at no extra cost to you).  For more info on our policies, click here.  Thank you for being a part of this community and supporting this blog!
1.  The number one way to get started with homesteading is to garden.
From a garden can spring so many amazing things.  And I honestly can't imagine really homesteading without one.  So, if you have the option, start a small garden in your yard.  Even if it's super tiny and you don't put up anything and eat it all fresh, it's still a step in the homesteading direction.
But don't give up if you can't plant in the yard.  In our last rental, we had some yard space.  But the ground was pretty horrible and we couldn't till up any of it.  So we created our own garden space.  We bought a feeding trough, put it on wheels, filled it with soil and voila, a raised bed that didn't bother the landlord!  We also cleaned out an old flower bed (that the landlords had ignored) and planted some veggies and flowers there.
What if I live in an apartment in the city?  If you live in a super tiny apartment in a big city, try planting in pots.  Put them in the windows for sun and you can even hand pollinate!  Never give up, keep trying!
Another great option for urban dwellers is Community Gardens.  They have become more and more popular and are springing up in tons of locations.  Do a search online in your area for one or contact your local parks and recreation service to see what's available in your area.  This year, we moved to an apartment in a complex which means no yard, but I knew I wanted  our kids to get outside and learn about gardening so…we joined a community garden.  It's been a great learning experience for them and good for all of us to get out and get our hands dirty.
2.  My second favorite way to use a bit of yard it to raise your own animals/bees.
I know, for many people, especially those living in apartments, this is not an option.  But don't give up on it until you've exhausted all your options.  It's become more and more acceptable for city dwellers to have a few chickens or even a hive of bees in their back yard.  Check with your city or county to learn what the laws are and make sure to get whatever permits are necessary.
We even had chicken at a rental we lived in.  The landlords didn't want animals in the house, but they didn't have a problem with chickens since they were in the back yard.  You never know unless you ask – check with your landlord, they might just say yes!
My third favorite way to start homesteading no matter where you live is probably the most useful tip.  And it's one I only really starting considering within the past couple years.  It's available to anyone no matter where you live.  Here it is.
3.  Learn the skills necessary to be a successful homesteader.
The truth is, homesteading requires tons of work, time and commitment.  It is often incredibly overwhelming, especially when you are just getting started.  So that's why this tip is so helpful.  If you can learn many of the skills necessary for homesteading before you ever move to the country, then you are light-years ahead of most people.  Learn the skills while you have the time, not when you are trying to plant crops and keep animals alive.  What kind of skills?  I'm so glad you asked!


Homesteading requires that you know something about almost every area of country life imaginable.  To get you started I've included a list.  The first part of the list are skills you can physically learn and hone no matter where you live.  The second part of the list are skills you can probably work on because they can be learned on public land (i.e. hunting).  And the final part of the list is are things you can read and study about from books and the internet.  No, it's not the same as actual experience, but knowledge is the first step in being able to successfully homestead.
Acquiring Skills List
Part 1 – Skills you can physically learn no matter where you live.
Knitting
Crocheting
Spinning
Canning
Dehydrating
Cooking
Baking
Cheese Making
Yogurt Making
Candle Making
Soap Making
Freezing Food
Sewing
Budgeting
Creating a work at home income
Basket Weaving
All about herbs
Weaving
Woodworking
Leather-craft
Brewing – Wine, beer, cider, vinegar
Part 2 – skills that can be learned on public land
Gardening
Fish – Fishing and preserving
Hunting
Learning to identify wild food – mushrooms, native plants, etc.
Part 3 –  things you can read and study about from books and the internet
Beekeeping
Making Maple Syrup
Basic Blacksmithing
Basic Mechanics
Animal Husbandry
Composting
Orchards
Berries
Nuts
Permaculture
Seasons of Homesteading
Solar Energy
Wind Energy
Grey Water
Root Cellars
Grains Growing, harvesting, etc.
Land Management
Fence Making
Composting Toilets
Building Structures
Rainwater collection
Heating and Cooking with wood
Book tip – Not sure what you are actually interested in or where to start?  My favorite book to get started on all things homesteading The Self-Sufficient Life and How to Live It.  It offers tons of basics and how-to's on a huge variety of homesteading topics.  It's a fabulous book to dive into and find out where your interests are!  Plus it is a helpful resource to always have on hand as you move forward.
You see, no matter where you live or what season of life you are in, there are things you can do to cultivate your homesteading dream.  Make sure you are fully prepared and equipped for the day you actually have some land to fulfill all your homesteading dreams.
Have something to add to my list?  I'd love to hear  your ideas!  Please leave a comment below!