$57 Gluten Free Vegan Budget Menu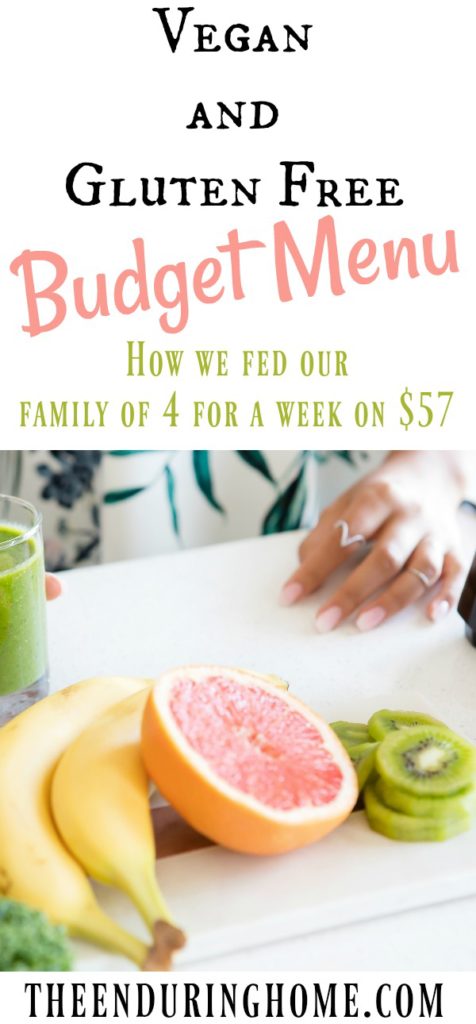 This Lent, my mission is to simplify my menu as a way to lessen our dependence on the material and focus on the eternal.
Hence, I created a menu plan that cuts way back on time spent in the kitchen, cost of food, and even variety.  These are still nourishing and filling meals, but we are not spending tons of time in the kitchen cooking and washing dishes since this is not the point.  This is a huge bonus for me, since I do not love to cook all the time! 🙂
The basic premise for the menu plan is to cook a double recipe for dinner on Monday, Tuesday, and Thursday.  Since we have church the other 4 days of the week, this means meals are ready to eat before or after church by just reheating – wahoo!  No more hungry kids asking when supper is going to be ready and no more last minute splurges at the drive thru because I don't have the time or energy to cook!
Our Weeklong MENU:
Supper:


Monday (and Wednesday): A Copycat Recipe: Panera Bread's Autumn Squash Soup
Tuesday (and Friday): Budget Loving Minestrone on Tuesday
Thursday (and Saturday):  Black Bean Tacos with Avocado Cilantro-Lime Sauce
I cannot tell you how much easier this made the week!  Yes, we ate the same thing two nights of the week.  But this just makes us appreciate the food that much more.  Americans has so much excess, that cutting things down a bit is good for our souls.
Breakfast:
Oatmeal (2xs), yogurt w/frozen berries & toast, Smoothies (2xs), Fruit (Banana & Orange)
Lunch: 
Leftovers, random extras for mom and dad.  Protein options for kiddos (see below).
Protein!  Extra Protein fill-in meal for the kids:
Gluten Free Tuna and Egg Oatmeal Patties w/dilled and salted sour cream (about mid-week I make the kids an easy, simple one dish substitute lunch that is packed with protein)
Pumpkin Oatmeal Breakfast Cookies (On the Go Snacks/Meal!)
And yes, our food budget for February was around $230 for 4 people!  This is for a mostly vegan/gluten free diet.  That being said, I buy a milk, eggs, and yogurt for added protein for the kids.  So you will see that in a few of the meals.  However, not everyone in the family eats these products, so they just supplement in an extra day of a different meal plan or only eat part of the menu plan for that meal (for ex. instead of yogurt w/berries and toast, they will just eat toast or eat oatmeal for another morning).
Anyway, I really wanted to challenge myself and see how  much we could save in the food area of our budget.  And wow, it was amazing to see that as we tightened the money strings, food became much more valuable to us!  We didn't waste as much, got much more creative and go to see all areas in which God provided for us.  I look forward to sharing more of these details as we grow together and I will be going into more detail on the cost breakdown of our food budget in the future.