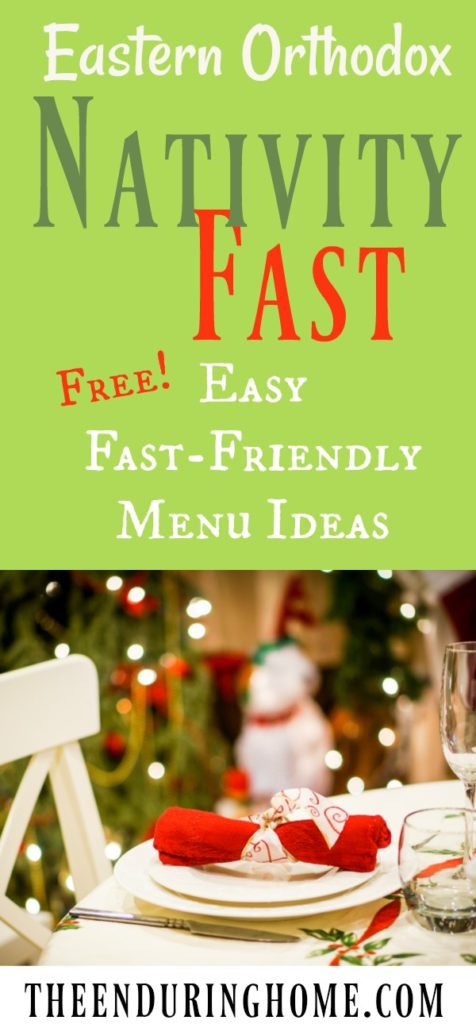 Nativity Fast – Free Eastern Orthodox Fast-Friendly Menu Plan Ideas!
The Nativity Fast is here!  Can you believe it?
With holidays and festivities fast approaching, the Nativity fasting season can seem daunting.  Sad to say it, but sometimes it feels burdensome and creates more work.
But I don't want it to be that way for your family or mine.  I love how the fasts are meant to help us return to simplicity and refocus.
Having a plan for the whole fasting season really helps me.  It frees up at least one area of our home life giving us a chance to pray more, go to church more, and have a bit of quiet in our lives.
Somehow, in our modern crazy lives, we can manage to make even fasting complicated.  If you want a different experience this season, then read on!
I've created list so you have go-to Nativity Fast-Friendly ideas for suppers all season long.   I hope it is helpful to you – enjoy!
I've been experimenting with menu styles so this Nativity Menu looks a bit different than some of my past menus.
The biggest change is that instead of assigning specific meals to specific days.  I've started creating lists of meals that are divided up based on what type of fasting day it is (fish, wine & oil, etc.).  Then, once a week, I glance through our menu options and jot down what will work best that week.  This way we can have a tailored menu plan without a ton of brainstorming every week.
Why do it this way?  Well, for our family, our schedule changes often.  We may have guests over, have an extra church service one night, or someone may bless us with some food that needs to be used up, etc and I found that when I have a rigid menu to follow, it creates more waste (which costs us more in the end too).
Hope you enjoy the ideas and that it helps you to enjoy a blessed and peaceful Nativity Fast.
If a recipe has a link available, I'll link to it and I'll even be adding some recipes to the website this Nativity…I'll add links below as available!
Regular Fast –
White Bean and Kale Soup
Black Bean Burgers w/fresh veggies and fruit
Butternut, Apple Soup
Moroccan Pasta
Lentil Loaf with Mashed Potatoes and Peas
Quick and Easy Meals
Shrimp Curry with California Veggies
Black Beans and Rice
Lentil Spaghetti with fresh Garden Salad
Lentil Sloppy Joes w/fresh celery and carrot sticks
Instant Pot Ideas
Instant Pot Mexican Beans and Rice
Instant Pot Chickpea Curry
Instant Pot Quinoa Burrito Bowls
Instant Pot Chili
Instant Pot Refried Beans and Mexican wraps
Mexican Instant Pot Quinoa with Cilantro Lime Dressing
Fish, Wine, and Oil –
Baked Salmon, Wild Rice, Asparagus (or other veggie)
Tuna Casserole
Salmon cakes
Tuna Patties (make extra and freeze for a make-ahead meal)
Baked Cod, Crispy Baked Potatoes, and Broccoli
One Pan Salmon and Veggie Bake
Grilled Cod
Grilled Tilapia
Grilled Tuna Sandwiches
Make ahead Ideas w/ fish –
               Open Face Curried Salmon Salad
               Tuna Pasta Salad
Salmon Pasta Salad
Tuna Patties (from freezer)
Lettuce Salad w/Veggies, Beans and Tuna
Lettuce Salad w/Veggies, Beans and Salmon
Wine and Oil –
Roasted Sweet Potato, Kale, and Pomegranate Salad (2)
Mejedra (2)
Tahini Roasted Cauliflower with Lemony Herb Oil with superfood burgers (Costco or other made ahead vegan patties)  (2)
Stir Fry with Brown Rice (2)