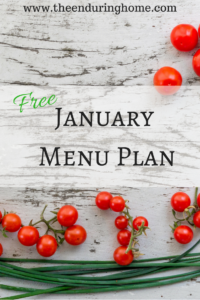 Free Menu Plan!
 January 2017
Welcome to a new year!  This year, my focus is on making every moment count.  This means lots of areas of life need to be organized, need to be efficient, and need to be more productive.
What does this have to do with a meal plan?  Everything!  I'm setting some lofty (for me) goals and the kitchen is no exception.   I will be attacking our food budget and reigning it in, working on a new menu method that saves money and reduces waste, and adding more veggies, smoothies and healthy snacks to our plan.  Who wouldn't want to do this, right?!
I'll even be taking an e-course called Grocery University in the coming months to hone my skills and learn some new tips.  I've heard great things from about this course from lots of people, so I'm excited to check it out for myself.
You won't see these changes all at once.  I'm experimenting with different ideas and working out kinks, but our menu plans will slowly start to reflect these changes.  I'm super excited because I think we can all benefit from changing at least one of these areas…
And yep, if you are an Orthodox Christian, there I will still of course be making the menu "fast friendly."
Here's to an incredible and healthy 2017!
Here's my disclaimer:   I am not a medical expert by any means!  I do not add up calories, fat, or nutritional content.  You should consult with your health care provider for any and all health, nutrition, and food advice.  My menu plans are just that: a meal plan I make for my family. Here, I get to share it with you in hopes it can help ease your burdens and save you some time!

If you would like to read about why we share our menu plans (and why they are "Orthodox") then check out the beginning of this post.

A few things worth noting:
First, this menu contains only dinners.  If you are looking for breakfast and lunch help, check out A Menu Method for Families on a Tight Budget.  This is the system we use to save us time and money – this will be changing soon!  Breakfast and lunch ideas can be found there.  
Second, Sundays for us are very full, so I never plan a meal for Sunday evening.  It is my day off from cooking, so we scavenge for food: leftovers, popcorn, snacks – anything we can find!  
And finally, some of the members of our family have very specific diet restriction (including low carb, low dairy, low/no sugar).  Hence, our menu selections tend to be homemade, from scratch, and generally healthy meals.  Most can easily be made gluten free as well by substituting out the bread/pasta selections (that's what we do!). 
Oh, many fasting recipe's I include will contain olive oil.  We just substitute an oil like canola etc. in its place if it is a fast day.
Menu Plan
(compatible with the Eastern Orthodox – new calendar – OCA)
January 2017
1  – Sunday – Leftovers
2  –  BLTs
3 –  Ham Egg Bake
4 – Stuffed Green Pepper Soup with Rice Crackers
5  Strict Fast – Leftovers (for kids)
6 –  Pork Chops, Roasted Sweet Potatoes, Cucumber Salad
7 –  Chicken Caesar Salad
8  Sunday – Leftovers
9  –  Sloppy Joes, Veggies with dip and fruit
10 –  Pulled Pork (such a great recipe – takes time, but inexpensive and worth the effort!), Coleslaw, and Baked Beans
11  w&o – Copycat Panera Butternut Apple Soup (Super easy and so yummy!)
12 – Chicken Fingers, Fruit Salad, Steamed Broccoli
13  fast – Roasted Garlic and Tomato Lentil Salad (the garlic in this recipe makes for amazing flavors)
14  – Crockpot – Roast, Potatoes, Carrots and Onions
15  – Sunday – Leftovers
16  – Fritatta
17 – Lasagna and Salad
18 fast – Bean Burgers (frozen Costco), rice, and salad
19 – Turkey Rice Soup
20  fw&o – Salmon Patties
21 – Crockpot Sausage, Spinach, and White Bean Soup*
22   – Sunday – Leftovers
23 – Spaghetti with Meatballs, Salad and Garlic Bread
24 – Mixed Bean and Ham Soup with Crackers and fresh veggies
25 fw&o – Tuna Casserole
26 – Chicken Pesto Cranberry Pasta Salad
27  fw&o – Baked Cod, Coleslaw, Roasted Potato Wedges
28 – Chicken and Broccoli Stir Fry
29 – Sunday – Leftovers
30  – Slow Cooker Buffalo Chicken Stuffed Sweet Potatoes and Salad
31 –Meatloaf, mashed potatoes, peas and carrots

Key:
fast – regular fasting guidelines apply (no meat or dairy)
fw&o – fish, wine, and oil
w&o – wine and oil
w – wine
*  New recipes – can't wait to try!  Let me know what you think if you try it!
Let's start the New Year right!
~Karina
Also – here's a new cookbook we got over the holidays…really looking forward to trying out some awesome new recipes!
***This post may contain affiliate links.  If you click on those links, I may earn a commission (at no extra cost to you).  Thank you for being a part of this community and supporting this blog!