Need help with your blog?  Here are some fantastic resources to help you out.   Are you totally new to blogging but want to get started?  There are lots of resources here for you too!
Below the links, courses and articles are divided into categories (Beginner Blogging, Improving Your Blog, and The Next Step) to make it easy to find the information that applies to you.  Happy Blogging!
This page may contain affiliate links…meaning, if you click on them, I may earn a small compensation (at no extra cost to you). If you'd like more info about our policies click here.  Thank you for supporting this community and blog!
Beginner Blogging – Getting Started:
First off, I'm super excited that you are joining the blogging community!  Leave a comment, introduce yourself, I'd love to meet you!  Now, let's go!
The key ingredient for starting and running a fantastic blog is determination, perseverance, and follow-through.  It is totally possible to earn a decent living from blogging.  You just have to do the work.  It's not a get-rich-quick scheme.  It's a work super hard/overtime for free and it will pay off later deal.  But it is doable.
If this is something that lights a spark in your heart, then  go for it!  You may just find the answer to your prayers and your calling in life.
Get our Blogging Basics Newsletter
Subscribe here to get our blogging basics emails. Here we share all our best blogging tips, resources, and sometimes even an income report. It's a great community – we can't wait to see you there!

I'll list the basics that you need to get started. There are tons (as in endless) options out there for bloggers nowadays, so I will keep things simple here and just list what has worked for me and my favorites.  That doesn't mean they are the absolute best option, but they are what worked for me so…
***This post contains affiliate links.  Clicking on one helps support this blog (at no cost to you).  Thank you for supporting this community!
Here you go:
1. You need your own website!  I know, duh, right?  But when I started I wasn't even sure how to do that and since I want to be sure to help all beginners, I want to make sure I'm thorough.
First you can create your own website on wordpress.org.  Make sure you create it on the .org site and not on the .com site.  I'll spare you the why's…and tell you that it will make your life as a blogger easier in the future and save you time.
2. Then you need to get hosted.  There are lots of options, but I use bluehost.  It is simple, has tons of awesome customer support and it's super inexpensive.  Here's a link:
3.  Start posting!  Really that's all there is to getting started.  Yes, there is a ton more to do.  From making it look pretty to making it profitable the to-do list of a blogger is endless.  But to begin with, you just need to get started!  Don't worry about it being perfect or looking fantastic!  As you learn, your blog will grow and improve.
If you are going, um yeah right, I already need help! Don't worry, you are not the only one.  It took me forever to figure this stuff out.  But it doesn't have to.  Let me tell you, I so wish I had had this resource when I first got started!  If you are looking for basic, start-up help that doesn't cost much, then I've got the perfect resource for you!  Crystal Paine is an awesome blogger who has just released her first class in "Your Blogging University" and it is the perfect next step if you feel lost and need help to get your blog off the ground.  It will get you going in only five days and is super inexpensive.  Check it out here: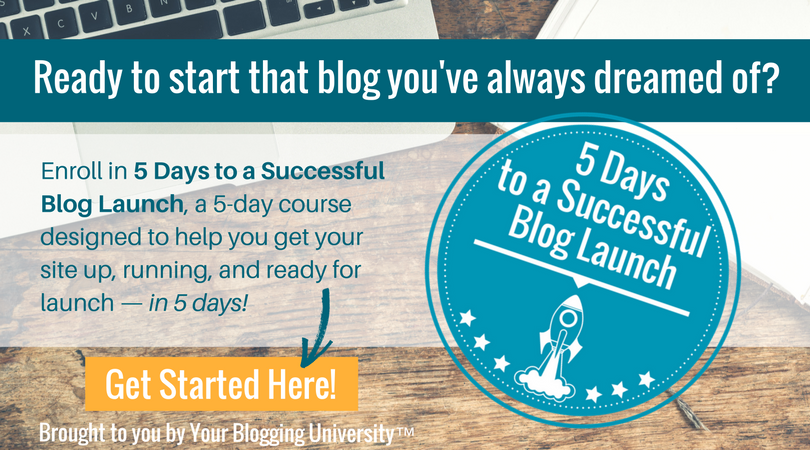 Improving Your Blog – Getting your Blog off to a great (ok fantastic) start!
Blogging doesn't cost much.  For the price of hosting you can get going.  But it you want to do this blogging thing for income then it pays to invest (at least a little!) in your blog.
I would definitely recommend taking a course on blogging so that you have the tools you need to be successful.  There are some great ones out there and I know lots of bloggers who have taken many different courses.  If your are looking for something basic that will just get you started, then I recommend 5 Days to a Successful Blog Launch (see above).  But if you want way, way more then keep reading.
Truthfully there are two courses that revolutionized my blogging journey.  That's it, just two.
My two go-to resources are Building a Framework and Elite Blog Academy.  They are both great and super-useful but for different reasons.
EBA (Elite Blog Academy is a huge course.  It contains everything you need to make your blog successful (including monetizing it!).  It really organizes everything a blogger needs to do into steps and (if you do the work) can take you from newbie to professional.  Sounds fantastic, right?!  Well, yes!  But here's the truth – it only opens up once per year.  Yep, once.  I know, right?  Like you want to wait until next year to start your blog!  And secondly, it's pricey.  Well, to me it is.  Don't get me wrong, it's totally worth it!  You can make your money back over and over again by following it's advise.  But it will cost a bit!
Now, my other favorite blogging course, Building a Framework Course, is similar in that it offers all the basics you need to know, but different in how it is presented and even some of the info itself.  Abby Lawson (the creator of Building a Framework) breaks things down super basically in an easy to read, approachable ebook.  She doesn't hold back any secrets and I walk away from every chapter going, "wow – duh!  That's so simple!"  Plus, the most recent edition of her course has lots of awesome videos and tutorials.  Honestly, the tutorials are the best part of Abby's stuff.  If you are a visual learner (like me!) then actually seeing someone else do what you are trying to do is super helpful.  I just love it!  The other awesome thing about Building a Framework, is that it's always available.  No waiting a year.  You can start today!  If you know you want to invest in a blogging course then this is a great one to start with.  It is definitely for beginners, but will take you way beyond beginner land!
I'm so excited for you!  I hope you have found a resource that fits where you are, your budget and where you want to go.  Happy Blogging!
The Next Step – Growing Your Blog in Specific Areas:
The more I learn in life, the more I realize I don't know.  Well, blogging is the same way.  Even if you learn how to successfully launch and grow your blog, there will always be more you can learn to improve your blog.  Honestly, that can feel overwhelming when you first start out. But please don't see it that way!  It's part of what makes blogging such a great profession.  There are so many opportunities to learn and grow.  Nowadays there are courses and ebooks that cover almost any topic blog related.  From maximizing affiliates, to conquering social media, the skies the limit when it comes to learning about blogging.
So, after you have done the basics and built an awesome foundation of knowledge for blogging, you will begin to see certain areas of your blog that come easily to you and some where you would like to see improvement.  Enter "specialty coursed" (at least that's what I like to call them).  They are where you can learn the "special" skills necessary to improve specific areas of your blog.
There are tons of these types of classes.  Right now I'm working through some courses that I'll share in the future.  Since I only want to share course that I find valuable, I'm being picky before I share them!
Also, sometimes bloggers share some absolutely fantastic resources in posts for free!  Gotta love that!  Below are some links for posts that have been a big help to me.  I hope they help you too!  I'll be adding to this list as I find new ones.