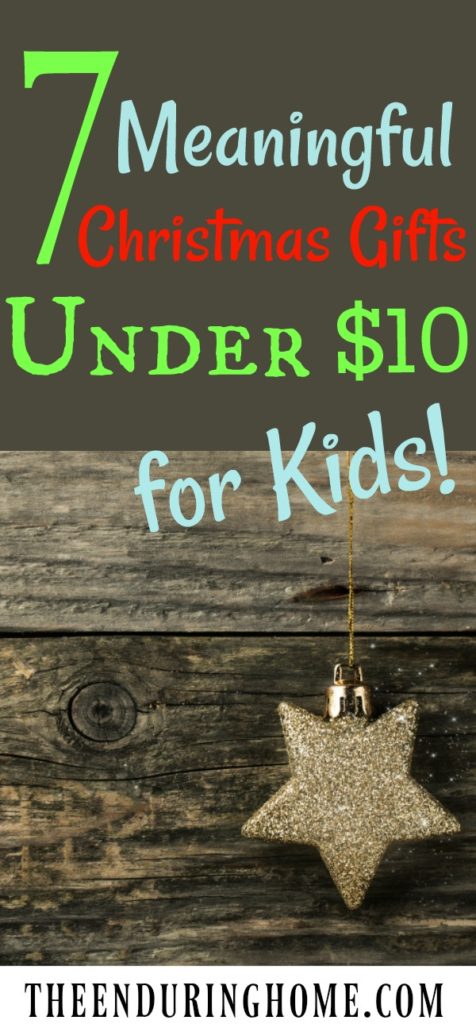 7 Meaningful Christmas Gifts Under $10 for Kids
Tired of giving gifts that just get forgotten, that clutter our home, and that cost a small fortune?  Yep, me too.  This Christmas, I came up with ways to give more meaningful gifts to my kids.  I've found that the gift of time has become more important to them than stuff, but that stuff is oftentimes easier to give.  It requires less.  But I want to do things differently this year.
So instead of giving them tons of "things," I've come up with special gifts I know they will love and that will make them feel special.  The best part is, most of the ideas will give us more time together but actually cost very little.  Some of these ideas are even free!  Since we are on a tight budget, this will be an awesome way to save this year!
***Lest you think me negligent, have no fear, my children will still receive toys etc.  They just won't get as many as they usually do.  My kids are very blessed to have extended family that blesses them with gifts at Christmastime.  These gifts are special to them because they come from people who don't live close by.  The physical toy (or other item) is a special reminder to them that that person really cares for them.  So, they will still get gifts…  But here on the home-front, we will be cutting back on the money we spend on gifts.
By the way, the following gift ideas would work for any child in your life, not just your own kids!
I hope these ideas inspire you to create a more meaningful gift giving experience this year…
**This post may contain affiliate links. If you click on those links, I may earn a commission (at no extra cost to you).  For more info on our policies, click here.  Thank you for being a part of this community and supporting this blog!
7 Meaningful Christmas Gifts Under $10 for Kids
1. Check out your local theater – 
In many areas, your local theater will have a series of children's plays or presentations running during the school-year that are super cheap.  The are intended to foster the arts in kids and inspire them.  Often times the tickets are under $5 for kids.  What a fantastic gift!  It gives kids something to look forward to, something to go and do, and ensures that you spend some time with them.
2. Take your Kids out to "coffee" – 
Do you meet friends for coffee every once in a while?  Why not take the child in your life out for "coffee"?  Give them a $10 gift card to your local coffee shop and explain that it's for the two of you to go out.  They will love feeling grown up and they will love spending time with you, and it will mean a lot more than another plastic gift under tree.
3. Check out Groupon for deals on things for kids to do – 
In our area there are almost always deals for the Children's Museum, the Trampoline Park, Nature Center, Etc. listed on Groupon.  Groupon is a website that offers hugely discounted rates on tickets or entrance fees to many local attractions, museums, etc.
There are usually local options similar to Groupon too – you just have to look for them!  Our local newspaper runs online deals for local businesses (just like Groupon).  It is a great way to find deals on smaller venues  – love this option!

4. Outdoor Activity  – 
Give your child a certificate for the Outdoor Activity of their choice.  Well, almost their choice!  Because your child may just want to fly a kite on a windless day or go swimming at the lake in January, be sure to specify in the certificate that they pick their top three things to do and you get to pick which one you will do together.  Before you give the gift be sure to block out at least three hours in your calendar for when you will do the activity!
If you want to do a specific outdoor activity, use $10 (or less!) and pick up an inexpensive ball or outdoor game that you know your child will love.  For example, my son really wants to try Frisbee Golf, so I'm planning to get him a Frisbee and head to the local Frisbee Golf Park.  He will love it!
5. Get Crafty – 
Get creative!  Or rather have the child in your life get creative.  Give an online course.  One of my daughter's favorite gifts she's gotten was for a Drawing Class on Craftsy.com.  You can find fabulous deals on classes if you take your time.  They run really great sales, so just be patient!  The only thing with this gift is, you will need to ensure that the supplies are simple ones that the child already has because otherwise you will easily go over your $10 budget.
Can't find a class that works for you and the budget?  Or have younger kids that need a simpler project?  Then head over to YouTube and find an instructional video for a craft the kids will love to do.  This way you can find a project that needs minimal supplies.  If you do need supplies head to a craft supply store like Hobby Lobby that often has fabulous sales (their app always has a 40% off coupon available!).
6. Cook or Bake with your Child – 
My kids love to bake and cook, but in the busyness of life, we don't usually have time to do this.  Give your kids a certificate to make a meal (include the shopping as part of the gift!).  A cute idea is to write out the certificate on a recipe card.  But here's the caveat – you must, must put a date and a specific meal (lunch, supper, etc.) on the certificate.  Otherwise it will get pushed aside and probably never happen and your kids will ask you every day, "can I make supper?"  "When can we cook?"
They are smart, they know that you are busy and if they don't bug you about it, it will probably never happen.  It can easily become stressful.  Instead, write down a specific date.  Put it in your calendar, and keep your word.  Your kids will love it.  Plus, it won't cost you anything because you would have had to make the meal anyway!  Yeah free gift!
7. Give a virtual gift – 
Give a special Christmas email.  Sound cheesy?  Hear me out.  Pick a theme that you know your child is super interested in.  Scour the internet for awesome articles, pictures, and videos that correspond to that topic.  Then create an email that has all the links that you've found.  Make sure you take the time to ad a corresponding background to the email, special font, etc.
If you need a physical gift to give, write a note telling them to check their inbox for their "Virtual Christmas Gift."  If they don't have their own email account just send it to yourself and them access it there.
I really like this gift because my kids love to look things up on the internet, but I am super cautious and concerned about them running into inappropriate content.  By creating an email with direct links, it allows them to have fun, safe, and educations internet time!  Yeah for another free gift!
Well, that rounds out my ideas for this year.  Since my children really come alive when we spend time together as a family, I'm looking forward to giving these gifts and seeing the affect is has on our relationships as a family.
What creative Christmas gifts are you giving this year?  I'd love to hear about them, please share below!